Welcome to ruffpack.com

The Site of the Reggae/Dancehall Sound ruffPack International

Mr. Washington Rafu tha Skilla Gold T Costa Rica Switzerland Cuba

Log on, check the lastest news!

this site is always under construction!







Last update: 27.08.2007








...if you got any important/new message fi di reggae-massive, jus' drop us a line!
contact here!










Rise di gun fingas T.O.K.

more in the Warning - riddim:

Friso Kid "inna de place"
Wayne Marshall "senseless killing"
Elephantman "pum pum wi waan"
...
!weekly updated!



Tune of the year 2006
Tune: Ghetto story Artist: Baby Cham

Tune of the year 2005
Tune: Welcome to jamrock Artist: Damian"Jr. Gong"Marley

Tune of the year 2004
Tune: Earth a run red Artist: Richie Spice

SEPTEMBER 22nd 2K7, Coupole Biel-Bienne, Switzerland

...this year it ago be badda than, madda than, sicka than the last time!
we call it the international badda dan, 1-2-3 badda dan international... the Swisscup 2K7, what ever!
hosted by the one and only "DAVID RODIGAN" himself!! reggae-ambassador since over 28 years!!
after a short warm-up by the clash specialists "Sovereign sound" and "ruffPack international", dem warrias hafi march in pan di bakklefield:

ONE TRIBE (GAM)
vs
KEVLAR TONE (NYC)
vs
GHETTO GENIUS (UK)
vs
SOLDIA (CH)

...will "Soldia" defend the trophy, won 2005 ina di swiss-national badda dan-clash, and kill 3 big international sounds?

...will "Guvenah" from "Kevlar Tone" come back to europe again fi a murder pan dem sounds?

...will Gambias "One Tribe Sound" execute 3 sounds in switzerland?

... will "Ghetto Genius" surprise dem wit' a serial kill far from di island?

...we will see!!

so, nah miss it, when the bakklefield ago get bloood-red again!

September 22. 2K7, 10pm-6am, Coupole Biel AJZ, Switzerland

more info you'll find pan
www.myspace.com/123baddadan
or
www.baddadan.ch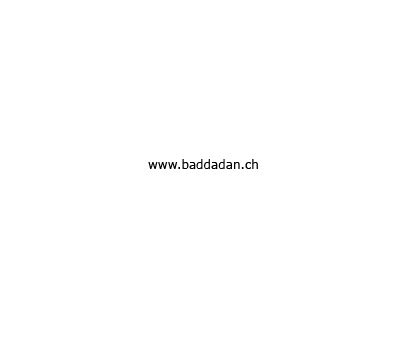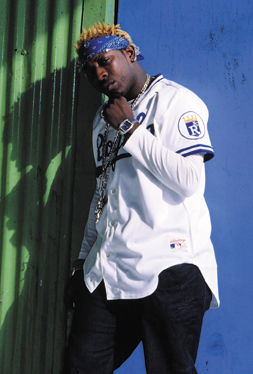 This coming tuesday, may 8th, in Volkshaus Zurich, di Energygod himself,
come fi introduce his new album pan the "GET JIGGY"-Tour!
Volkshaus Zurich, Stauffacherstrasse 60, Doors 19:00 Entry 50SFr./30SFr. fi students with ID!
Pre-Show by Cali P and Skarra Mucci!
Soundz pan decks: Sound Haunted, Heatwave and as specialguest Sound: ruffPack!

10.03.2007-30.10.2007

Yes we back!
After 3 mad-crazy-nice weeks we back in switzerland ready fi di work!
Fresh, relaxed & in Fullcrew! Washington, Rafu & Gold T!!
but in the same time we hafi big up:
Chino, Jorge, Mauri, Darvin, Jeremy, Black, Gato, Fiko, Peppe, Cole, Roy,
all Washington Family, all Ford Family, the Platinium Crew, Acon, Banton,
Toledo, Radio exa Crew, Beatz 106 Crew, Biggie, culturaroots.com,
DJ P, CHAN-Production, Stepanie, Rachel... & all people we meet!!!
ALL COSTA RICA!!!
we will be back soon!!!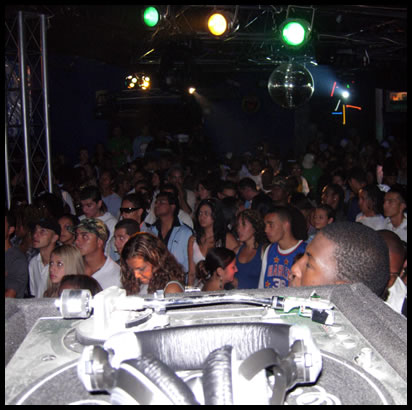 gallery soon online...
The CD is out now!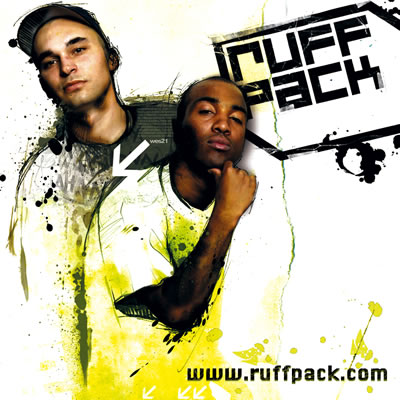 "ruffPack meets Costa Rica"
aka
"You can hate we now"
the swiss-edited Version will follow in the next weeks...
incl. cd-release-party etc. ...soon!!

before we touch the middleamerican continent, we promote a "come again"-bash inna di coupole in biel!
ruffPack come again ina di coupole (...after 9 month fi di first time!),
and come again cause we planed to come again after the cd-release-tour!!
...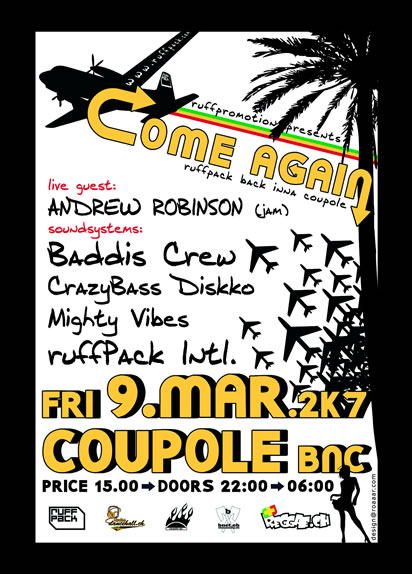 so come again fi celebrate with ruffPack, Baddis, CrazyBassDiskko, Mighty Vibes and live pan Stage:
ANDREW ROBINSON (JA)

EVERYBODY WELCOME!!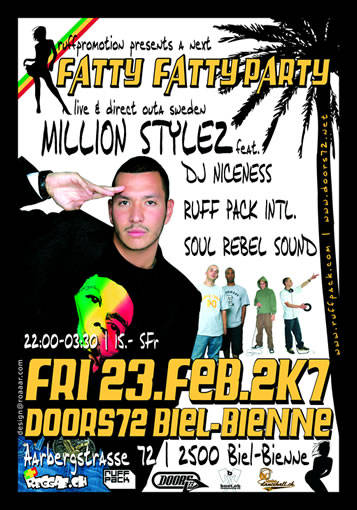 WE HAFFI BIG UP X-TA-C 4x4 fi win this clash inna nice style!!
!!!CONGRATULATIONS!!!
it was a honor for ruffPack to clash a big Sound from UK!
it was a big experience and we'll continue the thing, step by step!
...a sound-history must be build!!
'nuff respect to all massive from uk, switzerland, france... from everywhere!
->all friends, supporters, reggae-lovers, clash-addicts...
last but nat least: BIG UP THE PROMOTER! ...who mek everything possible!

...see ya soon pan a next battlefield!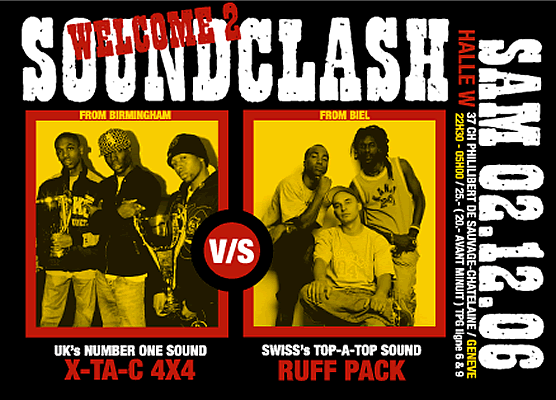 check out the Audios in our multimedia-section!
(original recording)

EVERYBODY WELCOME FI CELEBRATE THE 4TH BIRTHDAY OF SWIZALAAN'S MOST WANTED SOUND!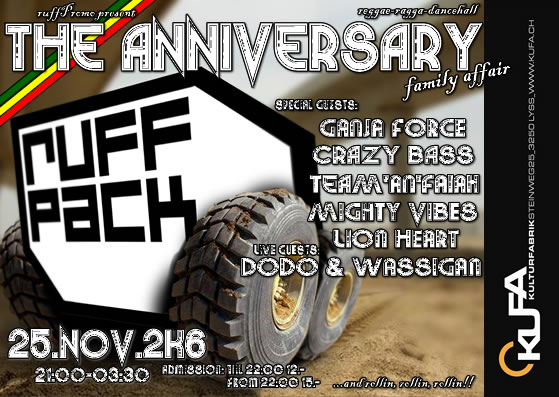 ...and we rollin, rollin, rollin!

Cali P presents: the ROYAL REGGAE FEST!
Oct. 20. 2K6 Ex-Cubanito Zurich
1 Night, 13 Artists, 3 Sounds and nuff nuff vibes!
gallery online!

Album-release this Friday Sept. 29! Endlich! CD in your favorite store! Download the Snippet-Mix now!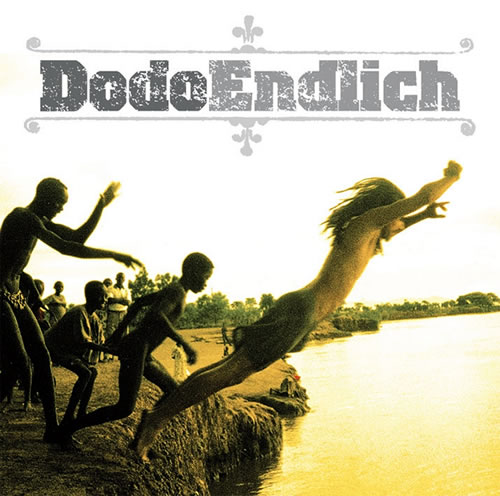 ENDLICH-pre-listen-snippet-mix feat. Cali P, Ras Theo and Mr. Washington!

more info about dodo: www.dodojud.ch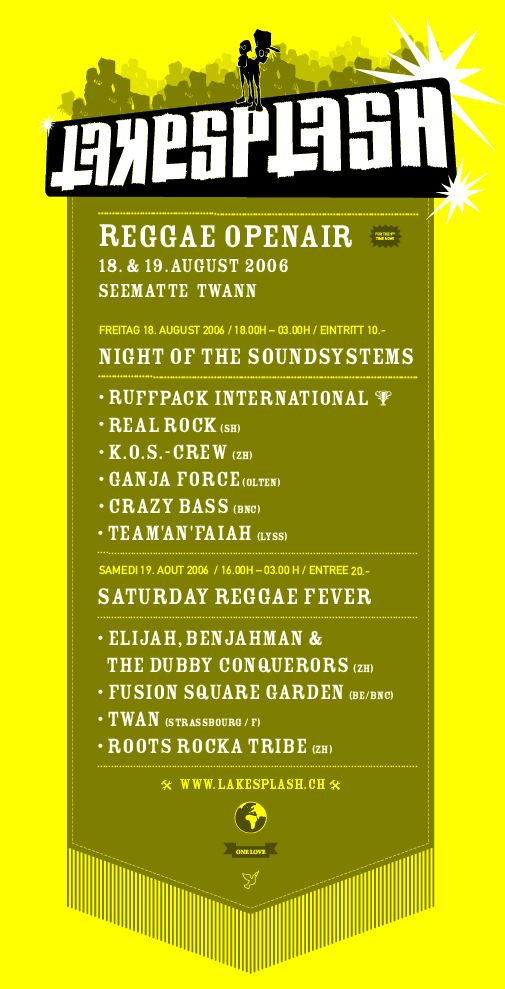 gallery online...

MAYDAY prod. in co-work with ruffPack intl and BlackPhantom presents: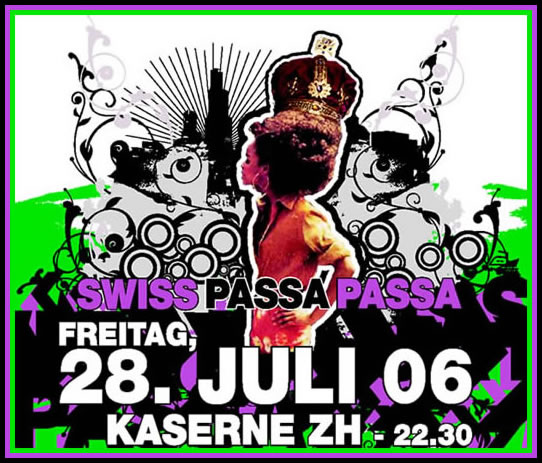 Line-up!

out now! 7" vynil in your store!!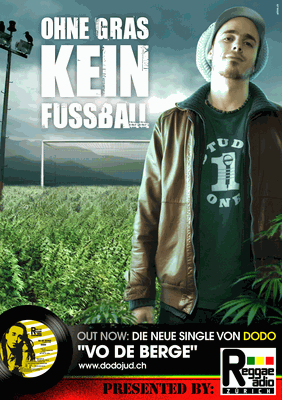 www.dodojud.ch
www.reggae-radio-zurich.com
click fi check di ruffpack.com-special of this tune!!!

This Tuesday, june 20th, we celebrate rafus birthday in kanzlei, zurich!
...alongside our friends from K.O.S.-Crew, jamaicas finest resident,
and as special-guest: Simon, Johnny Killer and Chin representin' the
MIGHTY CROWN outta Japan!
and more outta di ruffPack-family! EVERYBODY WELCOME!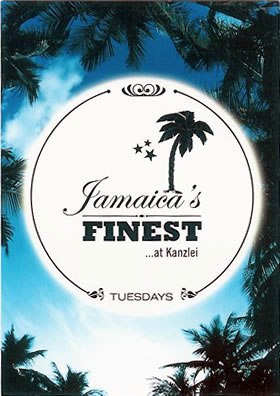 we hafi big up everybody who came ina midweekday(!)
to celebrate the day and check Mighty Crown in action!! Tuff Night!
gallery soon online pan www.missboubou.ch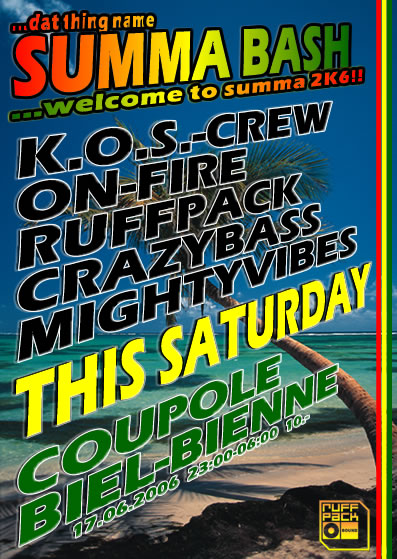 It was a real hot, hot Night!!
we hafi big up:
K.O.S.-Crew from zurich!! Don P and Riddla; jamaicas finest in BNC!
On-Fire blaze di fire, heat up from 30 to 50 degree! Boom! Drop and Lukee to di max!
CrazyBass tuff like eva! Kulu and Nando gwaan good.. fo'shizzla!
Mighty Vibes, Biels upcomin' Sound outta di ruffPack family nice!
Respect all di Sounds and Massive! BNC! ruffStaff!
Big up also all di jamaicans in di back, Cali P, Ras Charmer!
Black Pahantom fi di "stage-hijackin'"! Maaaad!

Pictures online pan www.missboubou.ch! ...check also www.on-fire.ch!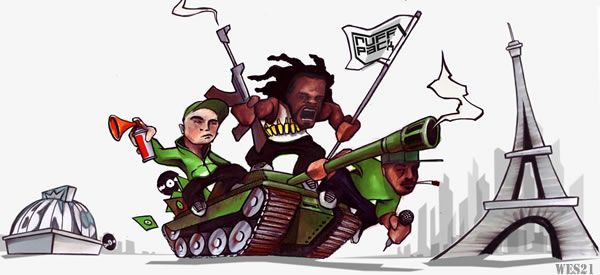 ruffPack Sound tek distance from every phisically Violence! We promote "Musical War" without any weapons! Seen?
WELCOME TO PARIS...
6 of may 2K6, Paris: be there when 4 international Sounds join the competition of the EUROPEAN SOUND CONTEST!
fi di first time ruffPack mek a move ina next country fi clash some international Champion Sounds!

the Sounds go by the name of:

fi Belgium: the mighty FARWEST CREW!

fi Luxembourg: the big bad TRIBULATION SOUND!

fi France: the dangerous VIBES SO NICE!

more infos a come soon...

...MAY THE BEST TEK DI TROPHY!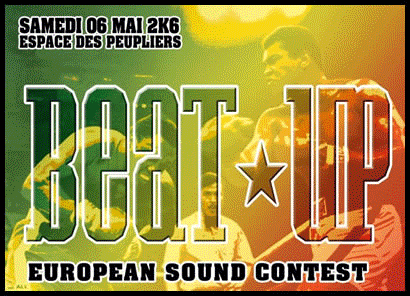 It was a BIIIG BIIIG night down ina paris! We hafi big up a lot of people who made this thing possible!
all massive ina di place from France, Belgium, Luxembourg, Germany, Italy, Gwada, Switzerland...near and far!
all ruffPack-Supporters to di max! The promoter, the host, the warm up sound,
all the staff from l'espace peuplier and last but not least:

FAR WEST fi tek di trophy home!

SMOCKY from Tribulation fi di niceness!

and VIBES SO NICE!

...it was a real tuff weekend!

...nah miss to check all di chatty chatty pan all di reggae-boards, listen di audio and enjoy the pictures!
-->way to missboubou.ch-gallery right here!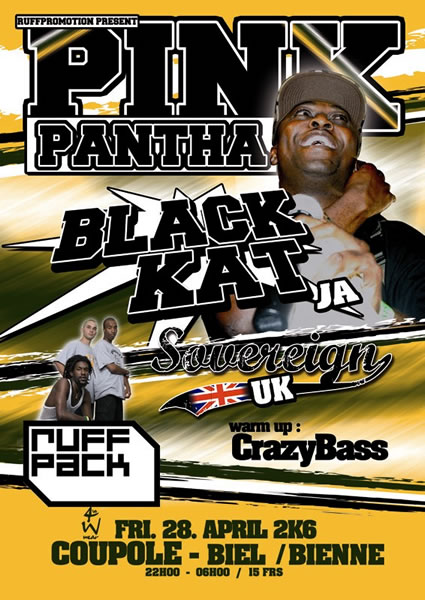 the wartanka back in BN-City... uno rememba last year?!?!!!!
nah miss it! EVERYBODY WELCOME!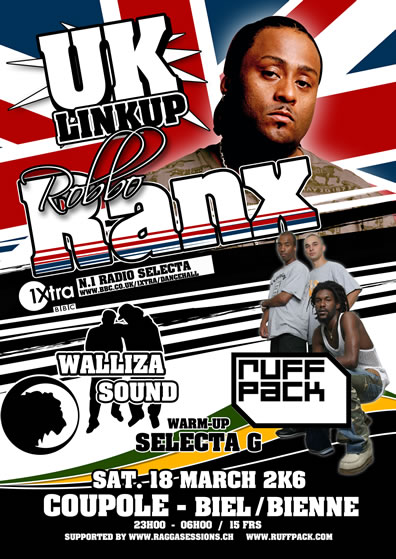 BBC 1 Xtra Nr.1 Radio-Head ROBBO RANX on tour in switzerland!
"Dancehall Splurt" ina BN-City!
'longside our friends from di mountains WALLIZA SOUND and SELECTA G!
...same show 1 day before: 17.03.2K6, Nendaz/VS

Big Vibes in Nendaz and Biel wha ROBBO spread..!!! King of the Dancehall!
Big up all Massive and Supporters from everywhere!
Gallery Nendaz
Gallery Biel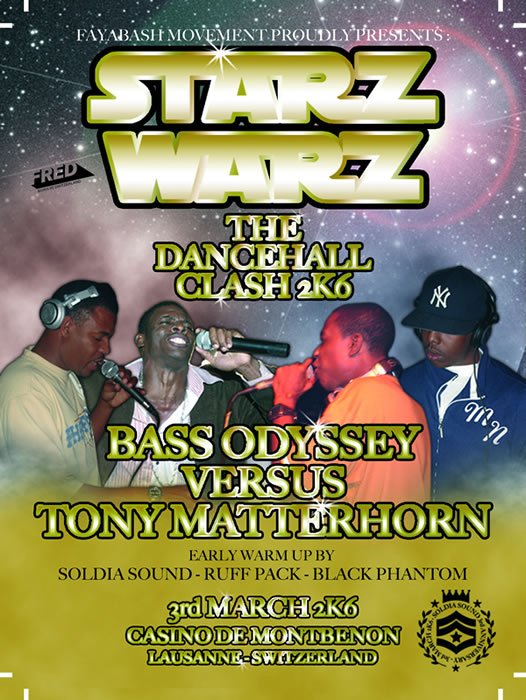 nah miss when bomb a drop!!


Tony Matterhorn mek it! ina thight fight he won the "Starz Warz" 1st edition!
We heared a lot a Busy Signal, Bounty Killas,... also 2 Jimmy Cliffs, a Garnet-Special...
the biggest 2 Sounds leave Switzerland after a Night to remember!
...Big up Mark, Worm, Madgie and Johnny Killer fi this Spectacle!
Big up FAYABASH, Soldia Sound, Black Phantom, DancehallExperience, all Massive and Supporters who made that ting' possible!

SOUND THE BIG THING!

gallery soon online...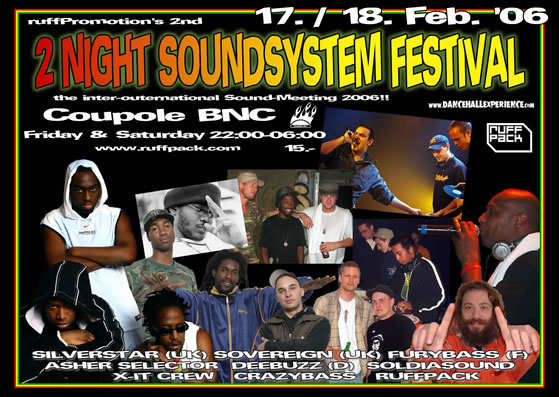 Big things a gwaan down ina Biel-Bienne City!!
2 Nightz full of Vibez brought to you by the wickedest Soundz inter- and outernational!
2 Nights full of vibes and niceness! Big up all the sounds and massive ina di place!
gallery here...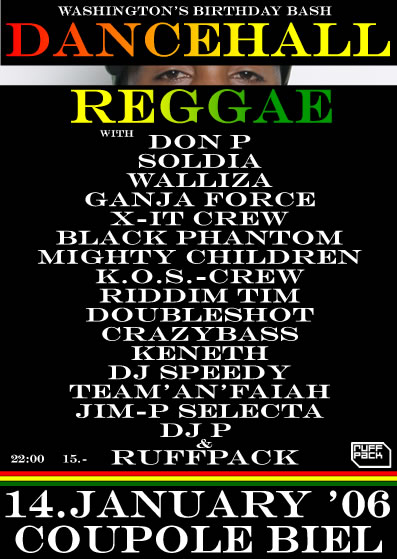 gallery online!

this time with the mighty BASSODYSSEY-Sound outta Jamaica!
DJ MARK will represent the CHAMPION-Sound to di max!
outta Geneva we bring UNITY SOUND, the Sound for 1 and all!
warm-up by upcomin' Sound GANJAFORCE! <- wicked youth!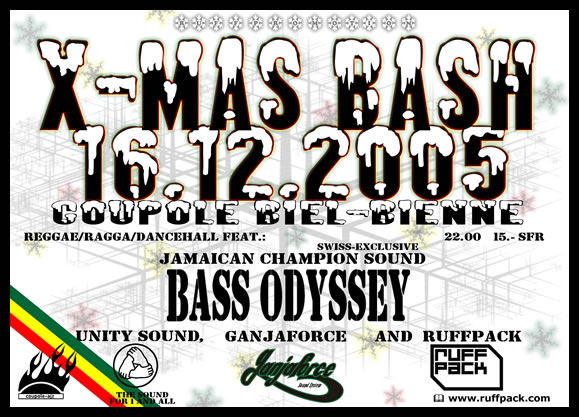 --> gallery online!

25. November 2005 we ago celebrate our 3rd anniversary in Biel-Bienne BNC!
Coupole

We proud to present you some Special-Guest for this Night from all arround the world:
LEXXUS aka Mr.Lex live and direct from JA fi a exclusive Show inna di ruffPack-Birthday!
BESCENTA, surprise-guest outta JA, fi di 1st time in switzerland!
CALI P, tha lyrical fyah, Guadaloupe W.I., ...Family-thing dat!
TOPAZ SOUND, tha SKANDINAVIAN CLASH CHAMPION '05 outta Sweden!
all lexxus-, bescenta-, cali p-tunes and topaz-productions availeble in your store or soundquake.com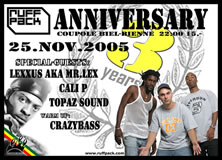 gallery online!
26. November 2005 we ago celebrate our 3rd anniversary in Zurich, Kanzlei!
alongside the jamaican finest-resident K.O.S.-Crew!
Special-Guest: BESCENTA (JA)!

!EVERYBODY WELCOME!

October, 29th '05, doors72, Biel-Bienne! X-CLUSIVE DATE!
In 1999, Brooklyn, NY sparked the beginning of the Mighty Crown's international career. The sound rose to fame after defeating two of the clash industry's most prominent names that year. Since then, Mighty Crown has become a household name in the clash industry. Mighty Crown is known for high caliber dubplates and great entertainment filled with surprises. Although Mighty Crown has been a dominant force in the clash in the clash industry for several years, 2005 marks their most active year. This year Mighty Crown boasts a strong competitive record, as they are leading the industry with their number of victories. Currently, Mighty Crown is the proud bearer of championship titles from U.K. Cup Clash and World Clash Antigua. In addition, they were awarded second place at the most attended clash this year, World Clash Jamaica.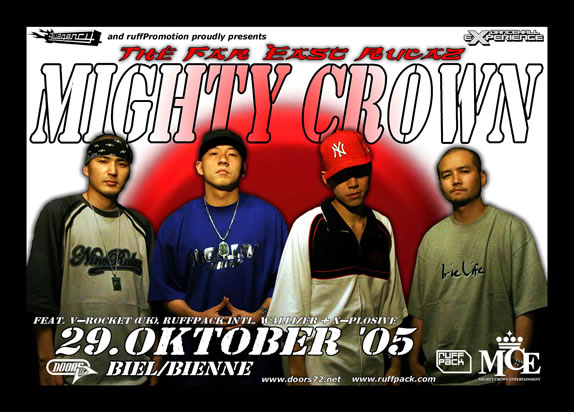 www.mightycrown.com
gallery online!

7th october '05 ina Biel-Bienne
doors72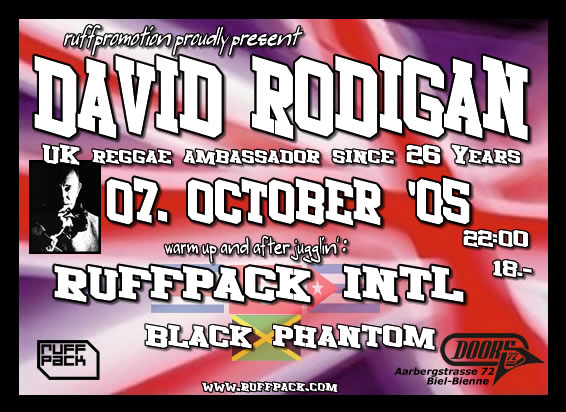 alongside
ruffPack & Black Phantom
Gallery here!

www.rodigan.com

24. Septemper 2K5, doors72, Biel-Bienne (BNC)
FAYAgency and ruffPromotion proudly present: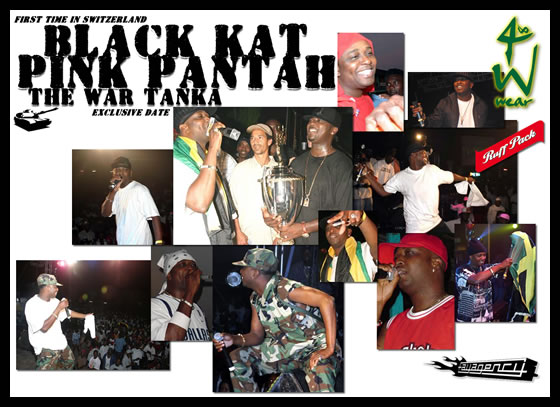 It's strictly Dancehall and Sound System business when Black Kat takes the stage and hits the decks in the Bounce Dancehall tent. The quick-fingered selector Yunzie and charismatic mic man Pink Panther have been ambassadors over the last decade in the clash world. At the US World Clash '03 they lived up to the name, the War Tanker. They advanced, avoiding all the bullets their adversaries could fire and flattened everything in their path. For the UK Cup Clash '04 Black Kat had one objective: to prove to the UK that the 2003 trophy was rightfully theirs, (after breaking the no derogatory language rule). They completed their mission. The Tanker was on a roll; the next stop was Montego Bay, Jamaica for Death Before Dishonor 4. With two trophies already in the cabinet, a third would make sound clash history. The competitors Ricky Trooper, Tony Matterhorn, Poison Dart, and Mighty Crown all fought hard but Black Kat's Yunzie and Pink Panther were one step ahead. Their victory meant Black Kat were the first sound to win world titles in three major countries in one year. New York's US World Clash in October 2004 began the new season, and saw Black Kat returning to the arena to defend their titles. The Tanker was refuelled, the dub plates were fired and history was made. They took the title by defeating Italy's One Love in the final round. Recently Black Kat was one of the namebrand contenders in the UK Cup Clash '05.

EXCLUSIVE DATE in switzerland, so don't miss it!
warm up: ruffPack, Crazy Nando & KULU Bass
more infos soon...
Flyer here!
gallery here!






September di 2nd, inna coupole, Biel-Bienne, ruffTown, ruffPack-City what'eva...

5 sounds come fi war! Musical War! Straight Sound killin'! Everybody ready fi tek di trophy!
ruffPack/ruffPromotion tek di possibility fi give switzerland another nice clash-experience!

AND THE WINNER OF THE 1-2-3 BADDA DAN CLASH 2005:

SOLDIA SOUND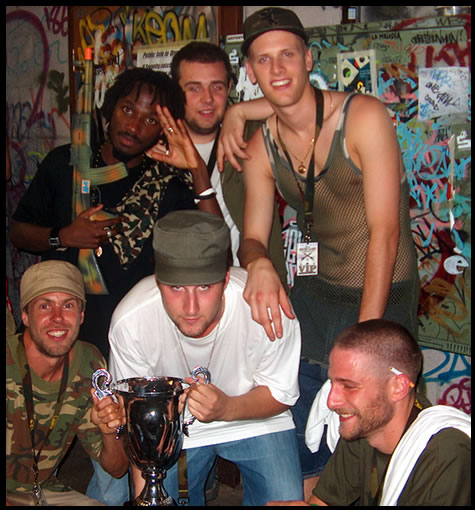 Congratulations!

Big up to all Sounds who came fi represent inna this clash! Tuff sounds inna Switzerland!
Big up all massive and crews fi mek a night like this possible!!!
Big up TONY MATTERHORN!!! to di max!! ...also Skully, SOVEREIGN SOUND!
...more infos, rundown, pictures, audio-and videofiles soon right here!

1-2-3 Badda dan gallery right here!

1-2-3 Badda dan-Video-Trailer right here!

Audio Downloads right here!




click pon banner fi official 1-2-3 BADDA DAN-Site






Check the pre-view of the NEW Clothing-Brand
Moderne hemp-wear fi the old and the new Generation inna next level!
Swiss Made
Some limited pieces already availebel in chosen quality hemp-stores!
www.4everweed.com

4everweed-Wear Gallery
incl. the 4everweed ruffPack-Collection








The Almighty decided to take our friend to his side:

GONZALES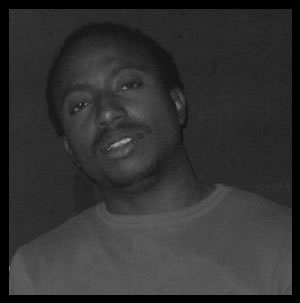 16.02.1973 – 13.07.2005

Condolences to his family and friends!

ruffPack is deep sad to lose a good friend in Gonzales!
We will never forget you!

May he rest in Peace!

We dedicate the bassodyssey-night from 29. of july 2005,
where Thunda Force would have to play, to the honours of our friend GONZALES!

some memories...:

July 29th '05 doors72, Biel-Bienne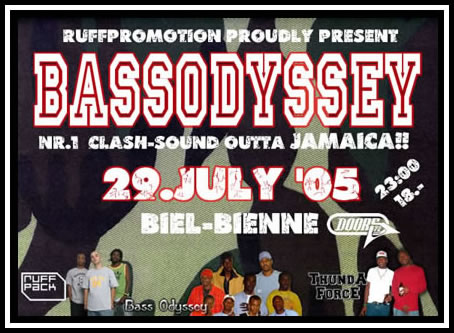 Bass Odyssey Selector Mark will represent to di max!
Special Support outta UK: SOVEREIGN SOUND!
Red Stripe-Bar like eva!

Gallery online!

More galleries added on ruffPacks NEW gallery-website...
more galleries will be online soon! Check them right HERE:


We have fi Big up this great night!!!

Maximum respect goes out to the promoters of the first Singjay Contest;

GideonProduction, RototomSunSplash and Salzhaus!!

'nuff respect to all the Singers! There's big, big talent ina switzerland! BIG UP!!
Nice jury!! Real good work! ...we nah forget all the special guests! Great performance!!

A special big up goes out to ASHER Selector, Positive Airlines! Music is Love!
Lenny Roots, you know how hostin'!! Nice work!
Last but not least; The Scrucialists! ... We loved it!!!

...after a short Soundsytem warmin' up by ruffPack & Asher,
the Scrucialist and Lenny started the Contest, introduced all the Singers by pullin' the startnumbers!

1st round: the Scrucialist gave every Singer the chosen Riddim. 15 nice tunes, by 15 real talented Singers!
A short break for the jury to chose the 5 best Singers in the final!
To keep the break short, Phenomden, Nattyflow and Wakad performed some tunes!

The Final: Mc Queen, Elijah, J.Bonda I, Benjahman, Charly B!

Every Artist performed in 8min. 2-3 tunes! (it was a real powerfull final!!)
ruffPack took over for 10-15min. to give the jury time to vote the Winner!
AND THE WINNER: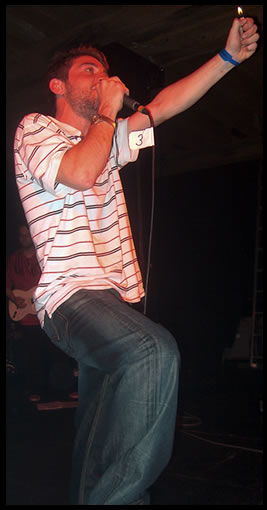 CHARLY B (Geneva)
After the Winner announcement, all the artist step on the Stage fi a wicked Freestyle Show! 20-25min. (...favorite riddim: PUNANY!)
ruffPack and Asher Selector took the Crowd to di end of the Event!

Thanx to everybody who came to support this Event! All the people who made things possible!

BIIIIG UUUOOOOOP CHARLY B!!! TUFF Performance! You the man!!
...more info 'bout Charly B you'll find pon charlyb.com
Charly B-website promotion-jingle
download!
Singjay Contest-gallery online NOW! Click here for our NEW gallery-website


Latest dates from CALI P now online pon ruffPack.com
Check our
PROMOTION-Section
fi details about the lyrical fyah!
All dates, bio, promo-flics and the logo deyah!
When Cali P is arround your city, trust we... better NAH miss it!
direct Link here: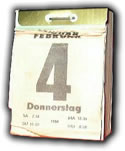 01.04.2005, Coupole, Biel-Bienne
In memory of our 2 friends who murderd in the streets of BIEL-BIENNE a whole heap of artists, dancers, dj's, friends and their families
performed ina di coupole a solidarity-bashment fi support di families of the victims and associations against violence!
ruffPack is really proud that we was a part of it! We thank to the promoters fi this nice night!!!
...it was a blessed night!
We call out to the gangsters in streets, too much people are dying!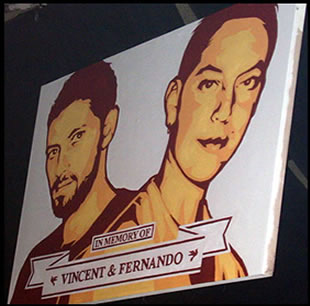 Anthony B Special exclusive fi this night:
CLICK HERE fi di mp3!

Feb. 2005 in your favorite store:

DOWNLOAD HERE!



!!NEW SWISS Reggae-Portal!!
Check the SWISS Reggae Movement in 1 sight! All inclusive!

Add your Reggae-Project NOW!



!HERE!