September di 2nd, inna coupole, Biel-Bienne, ruffTown, ruffPack-City what'eva...

5 sounds come fi war! Musical War! Straight Sound killin'! Everybody ready fi tek di trophy home!
ruffPack/ruffPromotion tek di possibility fi give switzerland another nice clash-experience!




SHORT OVERVIEW:

the 5 WarriorSounds go by the name:

fi Zurich: BLOOD A RUN SOUND

fi Lausanne: SOLDIA SOUND

fi Geneva: DERRICK SOUND

fi Zurich again: MIGHTY CHILDREN

fi di Walliz: X-PLOSIVE SOUND

the Host will be a very Special-Guest, a Clash-Specialist, the one and only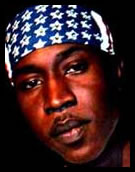 TONY "MENTALLY" MATTERHORN

the jury, who will tek care dat everybody will respect the rules and nah mek no playbacks, is nobody else than:

Aimée (Sweetybird Sound)

Neecko (NewGeneration Sound)

Herbal Q (Baddis Crew)

warm up and after jugglin' by ruffPack international & TONY MATTERHORN

Doors open @ 22:00 (10:00pm)
NO PRESALE!!!
the entry is 15.-SwissFrancs/Euro
the Event finished @ 06:00




AND THE WINNER OF THE 1-2-3 BADDA DAN CLASH 2005:

SOLDIA SOUND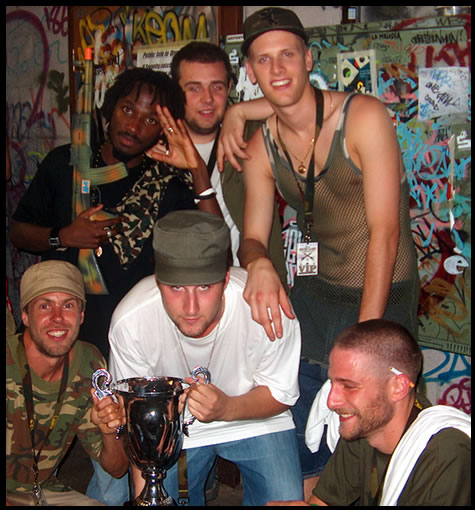 Congratulations!

Big up to all Sounds who came fi represent inna this clash! Tuff sounds inna Switzerland!
Big up all massive and crews fi mek a night like this possible!!!
Big up TONY MATTERHORN!!! to di max!! ...also Skully, SOVEREIGN SOUND!
...more infos, rundown, pictures, audio-and videofiles soon right here!

1-2-3 Badda dan gallery right here!

1-2-3 Badda dan-Video-Trailer right here!

Official badda dan-rundown.pdf
Big up Aimée fi mek the rundown
...and of course Neecko and Herbal Q fi di support!!





There will be 4 official rounds!
After every round 1 sound have to leave!
FREE ROUND / PRESENTATION ROUND
!everything allowed/permitted!
10 minutes
1 Sound leave!

DUBPLATE ROUND
!only dubplates allowed/permitted!
10 minutes
1 Sound leave!

45 ROUND
!only 45rpm Records allowed/permitted!
10minutes
1 Sound leave!

DUBPLATE ROUND
!only Dubplates allowed/permitted!
10 minutes
After the last round, when the vote is done, the host will decide whether a dub-fi-dub is necessary
or whether he announce the 1-2-3 BADDA DAN-Champion!

DUB-FI-DUB
...if necessary!
1 after 1
successively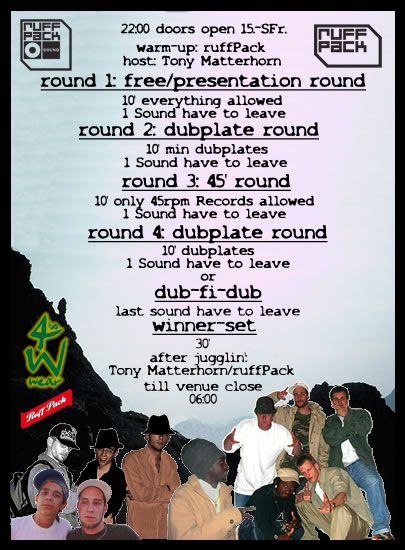 It is the sounds own choice which clay they chose, only inna di 3rd round are only regular vinyls allowed/permitted!

If you think Tony "Mentally Ill" Matterhorn is only hyper at a session to ignite a crowd, then you are sadly mistaken. In a simple conversation it is almost exhausting to listen to him speak so passionately about music - a subject obviously close to his heart; his energy is infectious. He has traveled around the world several times, carrying dancehall to its four corners. Whether for the British Link Up during Easter, the slew of summer parties or for Delano's revenge, which kicks of the Christmas party season, Mr. Mentally Ill always returns to Miss Maggie. He even attributes his duller than expected performances to arguments he has with his now well-known mother. If for nothing else, Matterhorn never forgets his roots and he even admitted that he thought of returning to King Addies.

In a relatively short time and in an unusual setting - outside the Asylum Niteclub - Matterhorn covered everything from the 'war' with Firelinks, the talent of Wyclef Jean at Fully Loaded, Beenie Man's ingenuity, and, of course, the supposed lyrical slaughter of Bounty by Merciless at Sting. Matterhorn spoke of creating the war between himself and Firelinks and how this war played into maintaining Links' popularity. He did admit that Links got the better of him on a few occasions but still boasted of his superiority. Matterhorn also hoped that Links would be able to "maintain and manage the hype." As for Wyclef's performance at Fully Loaded, he acknowledged Jean's skill and use of dubs from a wide variety of persons but still asserted his superior talent for pleasing the people. He pointed out the hundreds (perhaps thousands) of faithful fans who remained in the rain just to listen to him play. Obviously, he noted, "Ah me own di beach." ...
read the complete interviews here:

http://www.partyinc.com

http://www.yardyvibes.com
Host and afterjugglin' 2nd of september '05 inna BNC, Coupole: "1-2-3 BADDA DAN"
t
he host is responsible fi di votings! he have to announce every sound fi a fair vote!
the host can not vote! the host translate wha di massive vote! the decision of the host is the law!
the host can stop a sound run if he think, or the jury tell him that the playin sound disrespect the rules!


The jury can not vote! Massive have to vote with noises or handsigns!
The jury will only tek care dat everybody will respect the rules and nah mek no playbacks
and they are:
Aimée from SweetyBird Sound will tek a place inna di 1-2-3 Badda dan-Jury: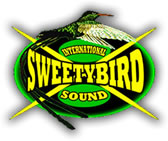 Neecko, known from the big bad NewGeneration Sound deyah: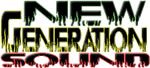 Herbal Q, the MC from Lucerns BaddisCrew, known from the Reggae-Fever Record Store:


click pon logo fi official chessu/coupole/ajz/caj-website: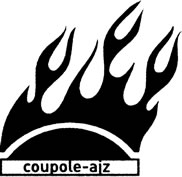 traintime
map from Biel-Bienne BNC
map from the station to the coupole
750 people fit inna di coupole! NO PRESALE!

4everweed-wear, Redstripe and ruffPack-gifts for a few of you clash-fans ready @ di entrance!
so come early and with a likkle luck you will recieve one of the nice presents sponserd by: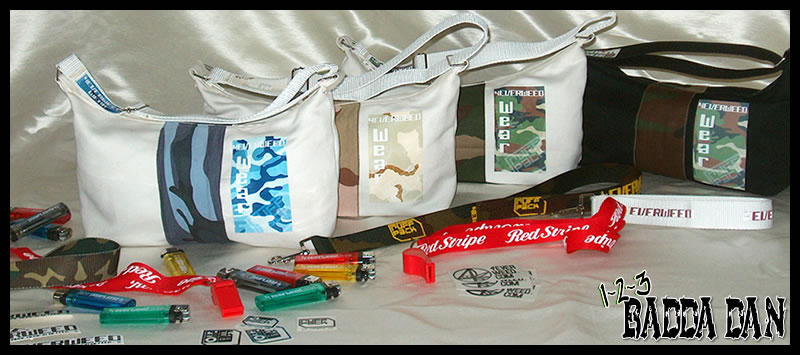 FLYER: